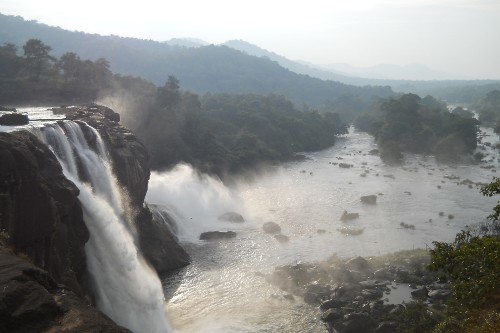 Athirapilly waterfalls, a very popular and scenic picnic spot located near Chalakudy township of Trichur district in Kerala.The Athirapilly Falls is situated 1000 ft above sea level on the Chalakudy river. Athirapilly is a scenic combination of forests and rivers. Falling from a height of 80 feet, this is one of the largest waterfalls in the state.Another popular waterfall to visit is the Vazhachal Falls. Athirapilly Falls is a part of Chalakudy river and it is approximately 80 feet in height.Best Time to Visit Athirapilly Waterfalls is July to September.
Tourists enjoying the milky white Water Falls of Athirapilly . Sure about they are getting that cool feeling of the water droplets splashing over from the falls. The waterfalls and the surroundings are always watched out by forest guards and they keeps directing the tourists coming here regarding the safety measures to be taken.
Visiting time:
Morning 8 to evening 6. Tourist entry to the waterfalls and respective areas is restricted by pass costing a meare amount of money. Forest guards are all over for taking care of you.
To reach Athirapilly Waterfalls:
Nearest airport: Kochi International Airport – 55 kms
Nearest railway stations: Chalakudy Railway station – 33 kms
Thrissur Railway Station – 61 kms
Attractions: