Thomankuttu Waterfalls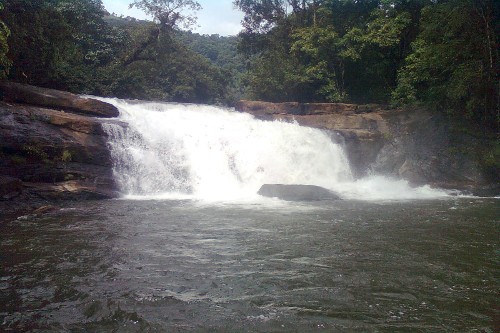 Located 17 km from Thodupuzha in Idukki district of Kerala, The water in Thommankuthu waterfall comes from small streams from the nearby hills. Thommankuthu is famous for its seven-step waterfall. It is an ideal place for adventure tourism in Idukki. Major attractions at Thommankuthu are forest trekking and bathing in the waterfall.The surroundings of Thommankuthu comprise refreshing weather and healthy greenery. A tourist can also enjoy the wild beauty of the forest at Thommankuthu. Tourists and travelers can also enjoy boating and fishing in the nearby lake. As Thommankuthu is spread over a remote area, there are no accommodation facilities available,but visitors can stay at the nearby town Thodupuzha where there are many hotels,lodge And gust houses.
Best time to visit : September to May. Can be visited year round; beware of slippery condition during wet season.
Visiting hours : Waterfall entry is restricted to 10:00 AM to 6:00 PM.
Distance
Air: 70 km from Cochin International Airport (via Perumbavoor, Muvattupuzha).
Rail: 70 km from Aluva Station near Ernakulam (via Perumbavoor, Muvattupuzha).
Road: KSRTC Bus Station is 20 km from Thodupuzha.
Attractions:
Keezharkuthu Waterfall
Cheeyappara and Valara Waterfalls
Thekkady
Kumaly
Malankara Reservoir
Mangala Devi Temple
Meenuli
Chellarkovil
Palkulamedu Peak
Ramakalmedu Peak
Kalvari Mount.